The SFWA Artist Spotlight is on…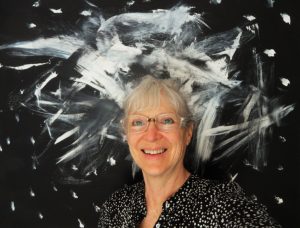 Jane Alexander-Perry
Discovery is the Ultimate Joy­

"Each thing that you try to make work adds to your collection, your repertoire as an artist."
"Usually I'm very impulsive, always impatient," says photographer and painter Jane Alexander Perry, her arms flashing back and forth like she's swinging a paintbrush or flinging paint.
"Lately, I've been working on slowing down with portraiture, trying to get a realistic likeness. I love it, the pure concentration and the progression is showing. It's so satisfying!" Jane is enthusiastic as we discuss art at a coffee shop. She calls her little white dog Toodles to sit on her lap.
"There is motion between the still and the impulsive, the free, open focused and the closed focus. I try to keep my mind and my eyes open." I ask if she considers herself brave. She describes herself as "Rudderless," with a laugh.
"Discovery is the ultimate joy. I love science and math; mystery and the challenge of figuring out patterns."
After a period of being uninspired, Jane says she started taking art classes and the Fromm Institute and the Golden Gate Community Center in San Francisco's Richmond District.
"I've discovered one way to learn a lot is to use materials that you aren't sure if they go together. Once I used this crummy black paper, but the texture gave a whole different look, almost woven. It was great." Jane has worked as a professional photographer many times. She loves photography but says,
"Just photography wasn't enough. The ultimate high is both paint and photography. I started to hand color and then I started really painting with my photos. In my art the photos are like a window to another world," Jane smiles again. "I want to always be discovering. Impulsively putting paint on canvas; see where one stroke leads to another. Let my arms fly."
Written by Renee McKe­nna
September, 2016­
 Jane's bio and link to her website